Based in the Burlington / Greensboro area, I am one-man web design & development outfit. Producing effective designs is my passion, working with Drupal is my expertise, and I treasure my creative independence. I'm interested in all things technology and design and take equal pride in getting the job done and making my work look great. I do what I love and I love what I do. There's not much more to it.
A little history...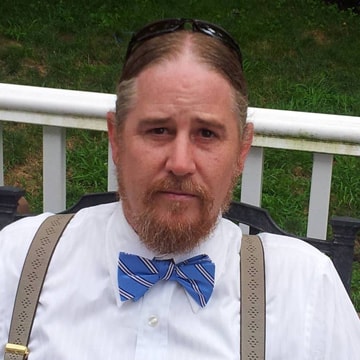 I started my freelance career over 15 years ago after spending 8 years as a UNIX systems engineer in corporate and technology environments. During that period I had many accomplishments which include having run a successful dial-up ISP and being a core member of an engineering team which successfully completed the first PSTN to VoIP telephone call.
After finding it harder and harder to compete in a job market where jobs were continuously sent overseas, I decided to take my technical skills in a new direction and strike out on my own as a freelance web developer. During that time, I have created websites for small businesses, artists, and individuals for over a decade & haven't looked back once.
As you can imagine, I've learned a lot over the years too. You'll find that I am well versed in most of the current & upcoming technologies and user experience best practices being used today. All of my designs are crafted with love & care using not much more than a simple text editor, in-browser tools, and a powerful open-source website framework.
And why should you choose me?
I take time to research, learn, and implement new ideas and techniques in all areas of web design.
I am flexible and can work in ways which larger design studios might find difficult.
I'll show you how I value our business relationship by being supportive, responsive and dependable.
I take great pride in what I do & I get the job done right - the first time!
I am the clever kind of web guy you need;
a maker, a tinkerer, and a problem solver.
It's been said, anyone can make a simple thing more complicated; but it takes finesse and a lot of know-how to make the complex simple. In fact, most everything I do is simple. I like to keep my business simple because I want to keep the quality high and I value close working relationships and informal processes and I try to keep projects as simple as possible which results in an effective use of your budget.
With numerous web design solutions to choose from, it may be difficult to decide who will design and maintain your web site. Choose me, and I'll focus on developing a website which is tailored to your specific needs and will communicate your professional objective & personality to the world.
In my free time...
You'll find me spending quality time with my best friend and wife of 20+ years and our two dogs Ushi & Skyler, tending a small vegetable garden, building something out of wood, camping and/or enjoying a live concert with friends somewhere.